THANK YOU TO ALL OUR SUPPORTERS! WE ARE STILL FUNDRAISING AND ACCEPTING DONATIONS.
FOR QUESTIONS, PLEASE CALL 800- 266-7920.
City of Hope
|

Los Angeles, CA
November 6, 2016

|

8:00 a.m.
City of Hope
Los Angeles, CA
November 6, 2016
8:00 a.m.
You have the power to build a world without women's cancers.
On Sunday, November 6th, 10,000 members of our community will unite in the fight against women's cancers at the 20th Anniversary Walk for Hope. Join us for a 5K/2K walk at the City of Hope campus for an unforgettable day of celebration and fun.
City of Hope is leading the fight against cancers unique to women through research, treatment and education. Your commitment to Walk for Hope will support City of Hope's efforts to push the boundaries of science to advance research and treatments on behalf of women everywhere.

We are counting on you to step up and help us raise more than $1 million in the fight women's cancers.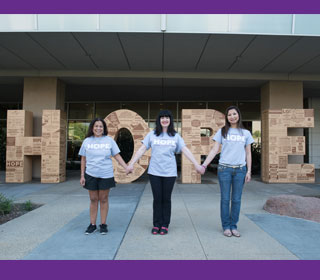 Be inspired by these women
Yvonne Bernal, supporter of the walk, Amanda Nixon, beneficiary of the research and Lihn Quan, survivor treated here at City of Hope.
Read More