FAQ
Is there a fundraising minimum? There is no fundraising minimum, however, City of Hope needs support to continue offering exquisite care and complementary therapies (such as yoga and meditation) to patients, researching less toxic treatments and seeking a cure for cancer. Stretching from San Diego to countries across the globe, people are benefiting from the innovative medical research that takes place at City of Hope. The purpose of Yoga for Hope is to raise both awareness of the healing power of yoga, and much needed funds for this cutting edge research and the treatment programs at City of Hope. Please be a part of turning hope into reality.
How does a Yoga for Hope Team work? Team Leaders are responsible for forming and inspiring a group of like-minded friends or family members to optimize Yoga for Hope participation & fundraising.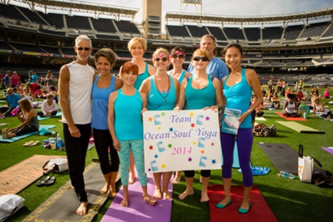 Is this event suitable for a beginner? This event is perfect for all levels and skill.
Will there be rest breaks in between the yoga class? You may stop or rest at anytime.
What types of yoga will be offered? Our instructors are currently determining the specifics for each of their sessions.
Can my children attend? Only registered participants (16 years of age and older) will be allowed on the centerfield grass area for the yoga class. Children may attend the vendor area, but cannot be left unattended.
What is the Dino Flacco Award? Dino Flacco was the founder and owner of Haute Yoga, a studio whose team "Haute for Hope" was the top fundraising team at the inaugural Yoga for Hope in March 2011. At that time Dino was battling Stage IV prostate cancer. Sadly, he passed away in October of 2011, only 12 days shy of his 52nd birthday. In honor of his warrior spirit, contribution to Yoga for Hope and his tremendous influence in the community, City of Hope now presents the Dino Flacco award to the top individual fundraiser of this amazing event.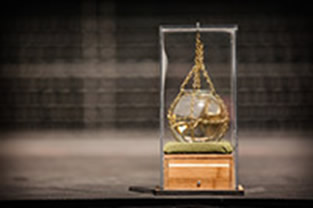 What should I bring for the yoga class? The only items allowed in the centerfield grass area will be yoga mats, small workout towel, water bottle, small wallet and keys. No food, beverages (outside of water), pets, bags, backpacks, chairs, purses, etc. will be allowed on the centerfield grass. Lockers will not be available, so please leave all additional personal items at home. Please contact the San Diego Regional Office for City of Hope should you have any questions: 858-452-6846.
Will mats be provided? Yoga mats will not be provided. Please bring your personal mat.
Food and Beverage? Light snacks and additional beverages will be available during participant check-in and immediately following the yoga class in the Yoga Marketplace. Only water will be allowed onto the centerfield grass area. Lockers will not be available so all food and non-water beverages will need to be consumed prior to entering the centerfield grass area for the yoga class.
Will water be available? Yes, water will be available.
What if I don't want to register online? You can complete a registration form and mail by Thursday, August 11, 2016 to:
City of Hope
1500 E. Duarte Road
Mailstop 25
Duarte CA 91010-3000
Registration will also be available on the day of the event at an increased rate of $10 per participant. We accept cash, check or credit card.
Is my registration fee tax-deductible? No, registration fees are not tax-deductible. The registration fee is used to offset the cost of producing the event and is not considered a donation. Registration fees are not included in individual participant fundraising totals.
I can't make it to the event, can I get a refund? No, registration fees are non-refundable and non-transferable.