Donation Class Schedule
Please see the calendar below for donation classes.
Join us for A DAY OF NAMASTE!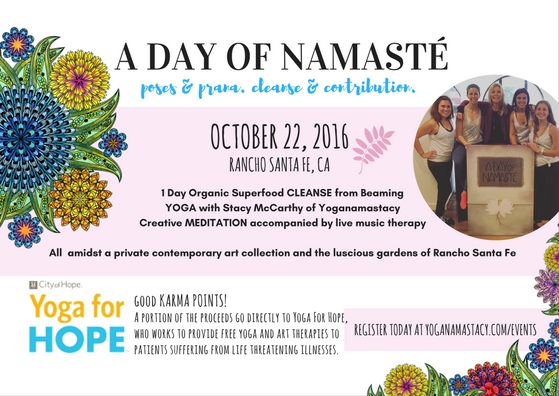 Set in place healthy rituals that will guarantee your success all year round. Learn the principles and benefits of cleansing the body with whole foods. Find a style of meditation that suits your daily schedule. Get Inspired to create an artful life and connect with a new tribe of yogis. Register today for A Day of Namaste, on October 22, 2016: http://www.yoganamastacy.com/a-day-of-namaste.html
For more information on how your studio can support in Yoga for Hope by hosting a Donation Class, please contact at the regional office . We are grateful to the studios hosting a donation class to benefit Yoga for Hope. Thank you!